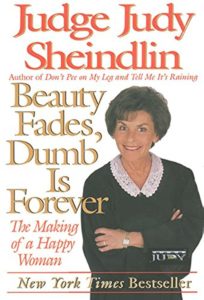 Did you read Men Are From Mars, Women Are From Venus and think, "This could really use more victim blaming?" If so: have we got a book for you! Kristen and Jolenta from How To Be Fine (and By the Book) joined us to discuss Beauty Fades, Dumb Is Forever: The Making of a Happy Woman by Judge Judy Sheindlin. Listen to this episode on your way to pick up your husband's dry cleaning!
Readers advisory: Here.
Footnotes: By The Book: Beauty Fades, Dumb Is Forever
Judge Judy To Megyn Kelly: 'I'm Not A Feminist' 
Coming up next: The Other Boleyn Girl by Philippa Gregory.
Podcast: Play in new window | Download
Subscribe: RSS