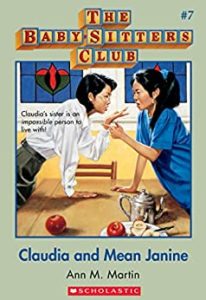 We read Baby-Sitters Club #7, Claudia and Mean Janine and Baby-Sitters Club #40, Claudia and the Middle School Mystery, both by Ann M. Martin. We were thrilled to spend more time with the coolest kid in Stoneybrook, and especially thrilled to discuss her with Susan Tan, author of the Cilla Lee-Jenkins books. Listen to this episode while hiding junk food and Nancy Drew novels around your bedroom!
Readers advisory: Here.
Footnotes: "'The Claudia Kishi Club' is a love letter to the beloved 'Baby-Sitters Club' character" by Yi-Jin Yu
"Claudia and the Baby-Sitters Club Books We Really Needed"
Coming up next: Karen's Plane Trip by Ann M. Martin.
* Worst Bestsellers is a participant in the Amazon Services LLC Associates Program, an affiliate advertising program designed to provide a means for sites to earn advertising fees by advertising and linking to Amazon.com.
(But no pressure, we're also happy if you get these items from your local library or independent bookstore.)
Podcast: Play in new window | Download
Subscribe: RSS