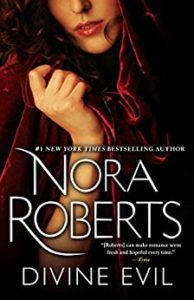 It's been a scary year, so we returned to the loving embrace of Our Lady Nora Roberts. Even though her 1992 novel Divine Evil is about a Satanic cult, we still felt safe in the small town of Emmitsboro, especially with our returning guest, Christine. Listen to this podcast on the long drive back to your charming hometown from the Big City.
Content warning: This book contains sexual assault, murder, and potential suicide.
Readers advisory: Here.
Footnotes: You're Wrong About: The Satanic Panic
You're Wrong About Book Club: Michelle Remembers
American Hysteria: The Satanic Panic
Coming up next: Didn't See That Coming by Rachel Hollis.
* Worst Bestsellers is a participant in the Amazon Services LLC Associates Program, an affiliate advertising program designed to provide a means for sites to earn advertising fees by advertising and linking to Amazon.com.
(But no pressure, we're also happy if you get these items from your local library or independent bookstore.)
Podcast: Play in new window | Download
Subscribe: RSS