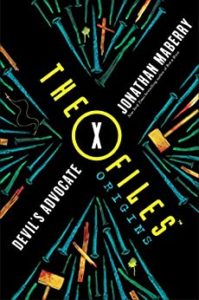 Did you ever wonder what Special Agent Dana Scully was like as a teenager? Did you assume she was probably really into taking classes at her small town's extremely popular New Age shop? No? Well, she was, and meanwhile also the government was doing some kind of shadowy experiments with unknown goals. That's according to The X-Files Origins: Devil's Advocate, an X-Files YA prequel novel by Jonathan Maberry. We're confused as to why this book was published in 2017, but since it was, we read it with Kait's True Believer cousin, writer Nicole DeGennaro.
Readers advisory: Here.
Footnotes: "X-Files Origins: Inside The Mind of Young Fox Mulder With Author Kami Garcia" by Chris Longo
"X-Files Origins: Author Jonathan Maberry on Young Dana Scully's Path To Belief" by Chris Longo
The Montauk Project on Wikipedia
This chocolate-covered Brussels sprouts prank is pure evil genius
Candy Pairing:  Kait says some dirt, Nicole says Mit-Mats (knock off Kit-Kats), Renata says carob chip cookies.
Coming up next: I Know This Much is True by Wally Lamb.
* Worst Bestsellers is a participant in the Amazon Services LLC Associates Program, an affiliate advertising program designed to provide a means for sites to earn advertising fees by advertising and linking to Amazon.com.
(But no pressure, we're also happy if you get these items from your local library or independent bookstore.)
Podcast: Play in new window | Download
Subscribe: RSS