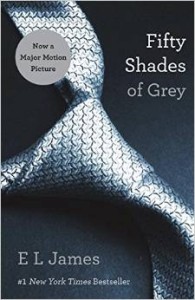 Kait, Renata, and their guest Anna of Bellwether Friends read Fifty Shades of Grey by E. L. James! Their inner goddesses are all annoyed at how much they felt compelled to defend this book. Sure, it's unconventional to have a modern college-aged protagonist who doesn't own a computer, but once you get over the initial shock, it's really not as bad as we thought it would be. Plus: our inaugural game of The Rock, Paper, SNIKT! and a dramatic reading of the infamous tampon scene.
Readers advisory: Here.
Footnotes: Anna's Fifty Shades Readalikes Project
In Defense of Fifty Shades of Grey (Sort Of)
Oh  Joy, Sex Toy's Fifty Shades Review by Erika Moen (NSFW)
"Does Kinkphobia Color Criticism of Fifty Shades of Grey?" by Catherine Scott
"The Real Fantasy of Fifty Shades of Grey" by Alyssa Rosenberg
"The Trouble With Prince Charming or He Who Trespassed Against Us"  by Roxane Gay
"Sex, Lies, and Fifty Shades" by Leslie Bennetts
Candy pairing: Anna says Sugar Daddys, Kait says generic Valentine's chocolates, Renata says bachelorette party chocolate.
Coming up next: Middle School, The Worst Years of my Life by James Patterson.
* Worst Bestsellers is a participant in the Amazon Services LLC Associates Program, an affiliate advertising program designed to provide a means for sites to earn advertising fees by advertising and linking to Amazon.com.
(But no pressure, we're also happy if you get these items from your local library or independent bookstore.)
Podcast: Play in new window | Download
Subscribe: RSS