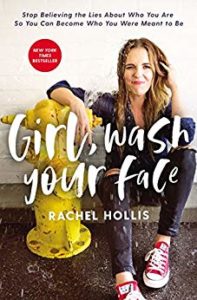 Hey girl, guess what? Your life could be way better than it is right now if you just believed in yourself and also married a high-up Disney executive! Definitely mostly the first thing though. We were joined by Margaret H. Willison (1/2 of Two Bossy Dames, 1/3 of Appointment Television, and one of Pop Culture Happy Hour's 4th chairs) to discuss Girl, Wash Your Face by Rachel Hollis, a Christian self-help book that misleadingly contained no skin care advice whatsoever.
Readers advisory: Here.
Transcript: Here.
Footnotes: Rachel Hollis on Jen Hatmaker
Girl, Wash Your Face on By the Book
Candy Pairing:  Kait says an Oreo while crying, Margaret says leftover Christmas candy, Renata says a cheese plate.
Coming up next: Machines Like Me by Ian McEwan.
* Worst Bestsellers is a participant in the Amazon Services LLC Associates Program, an affiliate advertising program designed to provide a means for sites to earn advertising fees by advertising and linking to Amazon.com.
(But no pressure, we're also happy if you get these items from your local library or independent bookstore.)
Podcast: Play in new window | Download
Subscribe: RSS