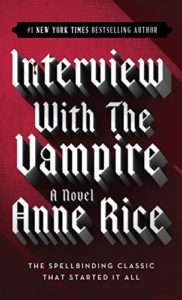 We ran out of Twilight books so we had to read about some less-sparkly vampires, ugh! Fortunately, we were #blessed with the company of not only Meredith Goldstein (author of the Boston Globe's Love Letters column as well as the books Can't Help Myself and Chemistry Lessons) but also a live audience at Trident Booksellers, for our discussion of Interview With the Vampire by Anne Rice. If you weren't able to join us in person, now at last you can hear our agonized discussion of a book with a lot of arson and insufficient glam (which could have been rectified by the addition of Cher.)
Transcript (experimental): Here.
Readers advisory: Here.
Footnotes: Interview With the Vampire film on Wikipedia
Candy Pairing:  Kait says black jellybeans, Meredith says Hershey's Hugs, Renata says atomic fireballs.
Coming up next: Bunnicula by Deborah and James Howe.
* Worst Bestsellers is a participant in the Amazon Services LLC Associates Program, an affiliate advertising program designed to provide a means for sites to earn advertising fees by advertising and linking to Amazon.com.
(But no pressure, we're also happy if you get these items from your local library or independent bookstore.)
Podcast: Play in new window | Download
Subscribe: RSS