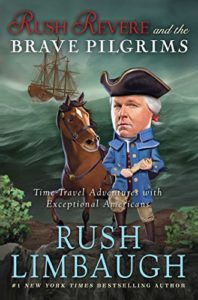 In this shocking episode, Kait and Renata have their first-ever white male guest, Renata's brother Reid, to discuss Rush Revere and the Brave Pilgrims by noted white male Rush Limbaugh. In this book Rush Revere, an irresponsible substitute teacher/iced tea mascot and his talking, time-traveling horse take children of an alarmingly indeterminate age back to meet the Puritans. Listen now to learn about how much the Pilgrims hated socialism!
Readers advisory: Here.
Footnotes: American Indians in Children's Literature's review of Rush Revere
Two if By Tea, Rush Limbaugh's actual real life iced tea company
DailyKos article featuring creepy Rush Revere illustrations
Candy pairing: Kait says Mary Janes, Reid says Flags of Freedom, Renata says Boy Scout popcorn.
Coming up next:  The Christmas Shoes by Donna VanLiere
* Worst Bestsellers is a participant in the Amazon Services LLC Associates Program, an affiliate advertising program designed to provide a means for sites to earn advertising fees by advertising and linking to Amazon.com.
(But no pressure, we're also happy if you get these items from your local library or independent bookstore.)
Podcast: Play in new window | Download
Subscribe: RSS