I just unintentionally read two books and watched a movie that took place in Europe (by which I mean, I didn't sit down to have a Europe-themed reading/movie week. I read and watched them all on purpose. I wasn't tricked or anything.) and now I'm wishing someone would send me to boarding school and/or on an international scavenger hunt. But since that's not likely, I guess I'll just review some international YA books and a movie.
So, I finally read Anna and the French Kiss by Stephanie Perkins. And, yes, I loved it. Probably everyone else has already read this by now, and Sandy already reviewed it, so let me just say that reading it made me really hungry. I give Anna and the French Kiss four croissants (out of a possible five).

Next up: Thirteen Little Blue Envelopes by Maureen Johnson. I know! I don't know why I hadn't read this yet, given that it's probably her best-known book. I really enjoyed it! I had to suspend my credulity, to be certain… why did she have to be seventeen? It would have been so much more plausible if she were eighteen, in terms of traveling as a minor and such. But whatever, if I want plausibility I'll read Jon Krakauer, right? So, seventeen-year-old Ginny finds the titular little blue envelopes and gets sent on a quest by her late, wacky Aunt Peg. She's not allowed to call or email home (though she does cheat on that one a bit). She goes on a cool trip across Europe, and, get this, travelling by herself is like, totally a growth experience and she comes out of her shell and (maybe) finds love! She learns more about her Aunt Peg and starts coming to terms with her death and her life! For me, the best part of the book was the armchair travel. I give it three backpacks (out of a possible five), and I'm definitely going to put myself on the library wait list for The Last Little Blue Envelope.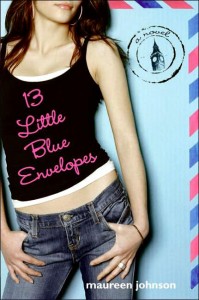 And finally, I saw Monte Carlo, the new film starring Selena Gomez and Leighton Meester. I went to see it on opening day with my friend Anna (with whom I previously saw Prom and Soul Surfer). We are aficionados of tween/teen movies, and we admire Selena Gomez's work in Another Cinderella Story, Princess Protection Program, and Wizards of Waverly Place. We also like her album, Kiss & Tell. You could call us Selena Gomez fans and we would not even try to deny it. We were so excited about this movie that we went to see it on opening day.  (I KNOW.) Unfortunately, it was not worth our excitement.
The plot of Monte Carlo is: Selena Gomez, her fellow waitress friend, and her bitchy stepsister (Leighton Meester) all go on a one-week trip to Paris together, following Selena's high school graduation. Their guided trip is very hectic and crappy. They get left behind by their tour bus and rush into a very posh hotel to get out of the rain. Inside, Selena Gomez gets mistaken for a very rich and spoiled heiress (also played by Selena Gomez). Heiress-Selena (who reminded me a lot of Posh Spice) is supposed to attend a charity ball the next morning, but she bails out of the hotel and goes to the beach (because she doesn't care about the children). Waitress-Selena and her friends get whisked away in a private jet to Monte Carlo. "Hilarious" mistaken identity antics ensue, and in the end, heiress-Selena gets a mild dose of comeuppance and they all raise a lot of money for charity. Also, there are some European romances, obviously. Hoorays. We knew going into this that it would be formulaic and cheesy–that's what we wanted. But it was just too slow-moving and too, well, boring, despite the great backdrops of Paris and Monte Carlo. Oh, and it needed about 300% more scenes with heiress-Selena. She was awesome. The best part of this movie was the anxious tween girls who sat behind us and offered helpful commentary like, "Oh no! She forgot her necklace! GO GET THE NECKLACE!" and "STOP KISSING!"
I rate Monte Carlo three of out five Spice Girls, but only if you can see it with chatty tween girls. Otherwise, two Spice Girls (and neither of them are Posh Spice). Oh, also, I feel strongly that this should have been a musical. Selena Gomez, Leighton Meester, and Katie Cassidy are all in various stages of launching musical careers. Plus, Finn from Glee is in it. And yet, no singing? Boo, Monte Carlo. BOO.