Fairy tales! We loved them as children and there's no reason we shouldn't love them now. These classic (if admittedly bizarre, when you really stop to consider the plot of any of them) stories are finding new life as young adult novels. Here are a few of my personal favorite re-told fairy tales.
Rose Daughter b
y Robin McKinley. Robin McKinley is kind of the fairy godmother of YA retold fairy tales. She has written approximately one million of them (it's possible that number is closer to ten, which is still a lot), and I have not read them all. But I have read both of her Beauty and the Beast retellings, Beauty and Rose Daughter. She wrote Rose Daughter nearly 20 years after Beauty, and you can really see how much she's grown as an author between the two books. It develops the magic of Beauty's world and gives authentic personalities to every character, including her sisters. And the ending has a slight twist, which I love. Beauty is quite good also, and (in my opinion) Disney's Beauty and the Beast pretty clearly ripped a lot of stylistic elements from it. (Though, of course, they're both drawn from the same source material.)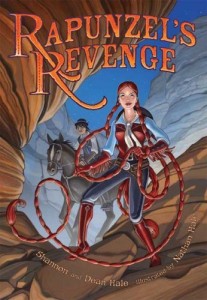 Rapunzel's Revenge by Shannon and Dean Hale (and illustrated by the improbably unrelated Nathan Hale). This is a super fun and funny graphic novel. It takes Rapunzel and sets it in the Wild West, and gives Rapunzel some serious attitude. She escapes the tree the witch has imprisoned her in and uses her long hair as a deadly weapon, Indiana Jones-style. She learns early on that the prince can't be trusted, so she falls in with Jack (of Beanstalk fame). Together, they ride around on stolen horses and discover how far the witch's power extends, and come up with a plan to take her down and restore justice to the land. The art is perfect to accompany the story and has a lot of great comic touches. (Note: I described it to some people and they said it reminded them of Tangled, which I have not yet seen, so I cannot comment.)
Sisters Red by Jackson Pearce. I first heard about this book when Bitch Media included it on their list of 100 YA Books for the Feminist Reader, and then removed it due to a few reader complaints. After reading it myself, I have to say: Eff you, complaining readers. The argument made was that in the book–which incidentally is a modern-day re-telling of Little Red Riding Hood in which the wolves are werewolves and the titular sisters dress in red to lure them in and kill them–being attacked by a werewolf is an allegory for rape, and the book makes it seem like girls who are attacked by werewolves deserve it, hence the book is saying that girls who get raped have it coming. This, in my view, is a stretch. The book is narrated in alternating chapters by Scarlett, the older sister, who lives to hunt werewolves; and Rosie, the younger sister, who hopes to one day have a normal life that does not require her to strap a knife to her belt every time she leaves the house. Both sisters are great characters who provide contrasting views on events. (And, this is, I think, where the controversy comes in–Scarlett does think that the girls who get attacked by werewolves have it coming. But Scarlett is also seen as over-the-top and consumed by bloodlust. Just because Scarlett thinks something does not mean that it's the position the book is advocating, duh.) Anyway, I couldn't put it down. And I'm a feminist reader, so take that, Bitch Media.
Also, it just so happens that I did a project about retold fairy tales for my Young Adult Literature class. I'm uploading the bookmark I designed, which has even more book recommendations! You can print it off, or just, you know, look at it. (By the way, I got an A- on my bookmark, with the feedback that it was kind of hard to read. I opted for smaller font size rather than removing one of my book suggestions. So maybe you should zoom in on it.)
PS: You may have noticed that this post is tagged "John Green" even though he does not actually appear in this entry. That is due to my goal of making John Green the biggest word in our tag cloud.