My fellow teen librarian Ruth and I are good at a lot of stuff! Totally good at stuff! But we're not great at arts or crafts. That became something of an issue when our teen area moved into a new, larger space that came with a huge bulletin board area. It's so big that it looks silly left empty, or used for just a couple of small posters like our old bulletin board. This one requires a full-on bulletin board. We tried, but honestly… we were not very good at the art of bulletin board. Our first few attempts looked pretty amateurish.
I don't have pictures of our first few bulletin boards but you can imagine the bulletin board equivalent of this: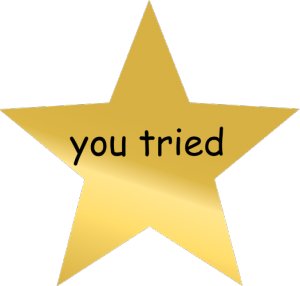 Then, when winter reading club rolled around, we decided to make big review slips for kids to fill out. We'd post them (assuming they gave us permission–there was a spot on the review for them to allow us to post their review) along with a printout of the book cover.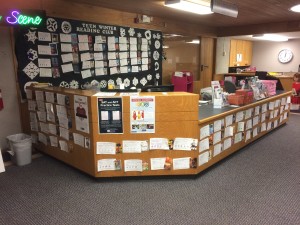 Oh, also, we had teen volunteers cut out those snowflakes for the border. BAM: a fun project for all those kids who put off their required volunteer hours until the last minute and a seasonal decoration.
The posted reviews turned out to be really popular! Patrons loved looking to see what others had read, as well as finding their own reviews. It was interesting as staff to see the accumulated reviews too, because it really does show that our teens are reading all kinds of stuff, not just the most popular authors of the moment.
Unfortunately, winter reading club eventually ended, and we had to take down our beloved bulletin board and figure out some other way to fill that huge space.
We asked ourselves, "What's happening in the pop culture universe?" and came up with the Batman vs Superman movie. Also, we had recently learned how to use the Cricut machine. (Kind of? If you'll notice, I accidentally used lowercase S's and O's but was not willing to recut them.) We came up with this concept where patrons could choose a shape, write their name on it, and cast a vote for their fave. The cute animal shapes + gritty DC superheroes mixture is a bit random, but it entertained us. Plus, it encouraged patrons to interact with us. (This is a picture from shortly after we posted it. In the end I believe Batman won, although it always stayed pretty close between him and Wonder Woman. I was actually on vacation when this got taken down so I don't have a picture of the end result.)
Now it's March, so… March Madness! This isn't an original idea; I've definitely seen other schools/libraries do a book/author March Madness display on Pinterest and the like. But it's the first year we've had a good space for it.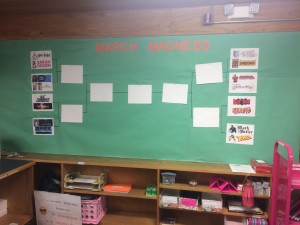 We picked 8 prose book authors/series and 8 manga/graphic novel series. Sort of randomly–we didn't look at circ stats or anything, we just thought about what we knew was popular and tried to pick a good balance of things. Ruth printed out the logos and ballots for voting. (I did the cricut letters and this time I learned the difference between the capital and lowercase letters!) We just put this up at the beginning of March so voting is still open for the first round. My hope is for Harry Potter to take it but I think Attack on Titan and Deadpool have a good shot at going all the way too. We'll see at the end of March!
Anyway, I mostly wanted to share this because most of the displays that get shared online are beautiful perfect works of art. I applaud those! But also if you're not that good at bulletin boards, it's okay friend. It's okay. Make your patrons do it for you and get back to doing all the other library work you gotta do.
Plus, it will give patrons–especially in our case teens–ownership over their library!