A few days ago, Rebecca Wells, writer and bookseller extraordinaire, posted on twitter that she'd love to see gift/style recommendations from several people, yours truly included. Never say I don't give the people what they want. Additionally, I'm posting it here cause a) we post all sorts of not-strictly-podcast-related things here and b) we have been pushing a lot of these brands at our live shows to the point that ModCloth in particular probably owes us some unofficial sponsorship money.
When I was in middle school and high school, those tender years where you become hyperaware of your own body and how it compares to others, I had a uniform–I wore jeans and a t-shirt, usually black, usually with some nerdy saying/logo on the front of it. The shirts were all men's XLs, even back then, and nothing touched my body if I could help it. I was very aware of how big my chest was and how much heavier I was than the other girls, and hiding my body seemed to be the best way to avoid having to confront those facts.
Something shifted in college–I ran out of fucks to give, I made friends with new people, I was away from everyone who knew me and could experiment without calling attention to myself. I bought a skirt. I loved it. I bought two more. I bought some dresses. I moved to Boston, once again away from people I knew and with room to reinvent myself without question, and I discovered online shopping and…well, here we are.
(Excuse basically all of these pictures of me? The lighting in my house is awful, so I rarely get full outfit shots and when I do it's usually "hey I just got this dress what do you think group chat?" sort of non-flattering shots)
I could make this an entire post about weight and self-esteem and depression and fat positivity, but I won't. I mostly outlined the above to demonstrate that a) I totally understand how scary it is to give yourself a style make-over when you're surrounded by people who are going to call attention to it and b) it's possible to do it anyway. Because here, now, in 2017 I am…well, I don't want to use the word "fashionable," because I think that brings to mind popular trends. I have a style, it is strong, and I am happy to lean into it. I get a lot of questions about what I wear–clothes, jewelry, lipstick, glasses–and I am usually ecstatic to share the details of all of my fashion secrets.
So, that's what I'm going to do! A few things to address before I get started on the fun stuff:
1.Fat Stuff
Right off the bat, if you care enough about this podcast to read the blog, you probably know that I am fat. I definitely have talked about it on the show and I post nine hundred selfies on Twitter. I am, as my mother would say, "rubenesque" in that I wear my fat in a more classic hourglass figure. This doesn't make me better or worse than any other fat folks, but it DOES make it somewhat easier to find clothes to fit me in the styles that I like. I tend to lean hard on retro-inspired looks, and curves are all the rage in those styles. I also tend to dress very feminine, and there are many more styles available for fat folks who tend towards femme than there are for some other fashion expressions.
I am also on the smaller side of fat. Again, not a judgement call–who gives a shit?–but it means that I can sometimes squeeze into the largest straight sized garments if I can find them in stock. Again, it means that I have more choices than a lot of fat folks and I am 100% aware of my privilege in that. I'm glad of it, but I'm also regularly pissed and a little guilty that it means I can shop places some of my friends cannot.
2.Measuring
THE BEST THING YOU CAN DO FOR YOURSELF WHILE SHOPPING IS TO KNOW YOUR MEASUREMENTS.
THE BEST THING YOU CAN DO FOR YOURSELF WHILE SHOPPING IS TO KNOW YOUR MEASUREMENTS.
I said it twice because it's THAT important. Sizing varies WILDLY across brands. I wear a ModCloth 1X, which is a 2X at LindyBop and barely a 3X at HellBunny. I wear size 16 jeans from the Gap and size 20 jeans from some other companies. Sizing for women's clothing is insane and if you just buy based on what you think your size is, you're going to have to return half the stuff you get. People always say to me, "I can't believe you buy clothes online, how do you know it will fit???!!!" It's because I know my measurements, and the first thing I do when I'm looking at a garment that catches my eye is open up their size chart and figure out what size I am there.
Which, I get that you might feel embarrassed ordering a 2X when you wear a size 12 normally. I get that you might have the impulse to say, "There's no WAY I'm a 2X!!!" And I feel you, but curb that impulse. You're making your 2X friends feel like shit and also the number doesn't matter as long as the measurements are right. (While we're on that subject, "You're not fat, you're so pretty!" is bullshit, never say that shit. I can be both fat and pretty, AND I AM, so thanks.)
3.Own It
I have had so many conversations with friends that start with, "Well, you look so cute when you do XXX, but I could never pull it off." (Random aside: I have heard this at least five times about wearing t-shirts with floofy tulle skirts. I promise you'll look equally adorable if you do this.)
I promise you that you can. If you appear chipper and confident enough in an outfit, you will absolutely pull it off. Even if it feels weird or feels like it doesn't match, odds are you can convince the world that it does just by acting like it's perfectly cool and normal. Like I said above, it's definitely scary to jump into reinventing yourself or wearing something new in front of people who see you every day. I think it was Margaret Willison who said that the first 3-5 times you do something new, you feel like everyone is staring at you all the time, but the world moves so quickly these days that after a week, I promise your co-workers will totally stop noticing that you're suddenly wearing heels all the time or using brighter lipstick or doing your hair.
So yeah, the first time you show up to work in that brightly patterned dress, people are probably going to notice. And the next time. And the time after that. But if you can push through, eventually the "Wow, that seems unlike you!" comments will melt into a casual, "Oh, I love your dress!"
Okay, enough about all that, let's get to the actual recommendations.
Clothes
ModCloth has been sort of all over the place in the last year. After being sold to Jet.com, a subsidiary of WalMart, there was some unrest in the company and some fear about the future of the brand. And while things have certainly changed and I'm not on board with all of the changes, they have yet to shift their style or cut out their plus-sized line, thank god. Back under the old owners, ModCloth was one of the most plus-responsive brands out there. They did a bunch of surveys about what plus-sized wearing folks were interested in and asked for honest feedback. They made a lot of changes based on what their customers were saying, and the community aspect of the site was very helpful as a fat person looking for clothes. They encourage you to put your measurements right in your reviews, so when you say, "This was a little tight in the bust" and you wear a 38G, someone who wears a 38DD will know that it will probably be a little looser on them.
The one tricky thing about ModCloth is that they carry a lot of different brands and they're not always good about including the size chart from the brand in question if it's not their own (though I will say that the size chart for their house brand is accurate), so keep your eyes peeled and read those reviews for details.
Some past ModCloth purchases I love: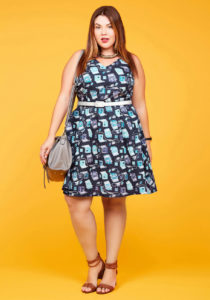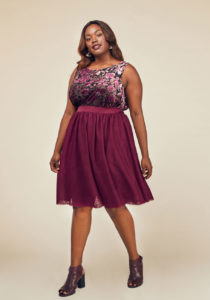 (Tragically, all of these are currently sold out.)
Some current ModCloth stuff I'm lusting after: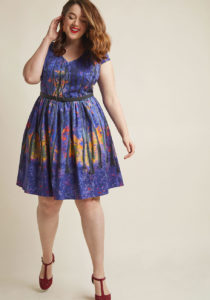 (Click on the image to go to the ModCloth page for each dress)
I have probably already, at some point in our acquaintance, preached the gospel of eShakti at you. eShakti offers dresses (and to a lesser degree skirts, shirts, and pants) in a variety of styles and patterns and colors in sizes 0-36 AND they offer customization for $10.
You did not read that wrong.
You can have the entire dress tailored to your exact measurements for $10. You can change the length of the hem, the sleeves, and the neckline on most dresses. And now they've even introduced an element that takes it one step further, where you can literally pick the dress style you want and the fabric pattern you want and they will make it for you for the same price.
Not only that, but eShakti patterns are AWESOME. They have tons of solid colors and more reserved patterns, but they also have extremely weird and fun things, too. Animals, cityscapes, stars, instruments, hearts, polka dots…they have a whole section called "whimsical" and I live and breathe every pattern within it.
The one thing to keep in mind about eShakti is that they ship from India and they tailor-make the dress for you, so shipping can take a while. This isn't like having someone box something up in the ModCloth warehouse and send it to you three days later, it can take anywhere from ten to twenty days to get an eShakti order. Worth it, absolutely, but it means you really have to plan ahead. You can't buy a dress on December 1 that you want to wear on December 14 unless you really want to cut it close.
Some past eShakti purchases I love:
(Tragically, none of these patterns are currently being sold)
Some current eShakti stuff I'm lusting over: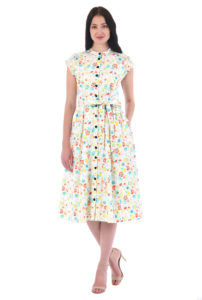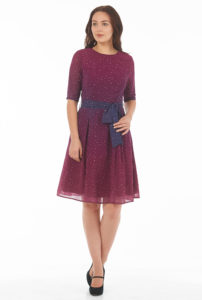 (Click on any of the above images to be taken to the eShakti page for each dress)
Elhoffer Design is a small, woman-owned business out of California that makes original fandom-inspired clothes. I LOVE THEM. Because she's a small business, most of her things are limited run and on the expensive side, but there is so much care and thought put into each piece that it's worth it. Her clothes are things you could wear to the office or to a party, but which have clear fandom influences that you notice if you know what to look for. I own almost every single dolman sweater she's made–I LOVE them. I wear them all the time. I also have one of her Hamilgown tunics, the green A.Ham one, which I wear all the time to work. I get a ton of compliments on it and no one realizes what it is.
Some past Elhoffer purchases I love:
(All of these are currently in stock as of 12/1 and the Moana Island Princess dolman is on clearance! Click the image to go to each item on the website.)
Some current Elhoffer pieces I'm lusting over: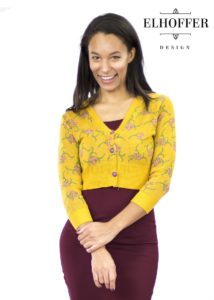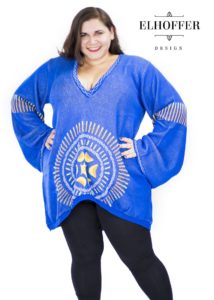 (Click the image to go to the item page on ElhofferDesign.com)
Torrid is, of course, a fat girl staple, but I don't order from them quite as much as my friends. Their clothes are more current fashion trends than my usual retro style. They do have some stuff that I like for a price I can live with, so I'll grab shit from them every once in a while, especially basics. They also have an awesome pop culture line, with some cool, subtle fannish clothes.
Some past Torrid purchases I love:
(Tragically, these are all old purchases and no longer available.)
Some current Torrid things I'm lusting after:
(Click on the picture to go through to the items on Torrid.com)
Amazon
I actually buy quite a few things on Amazon as well. This is a place where knowing your measurements and being smart about size charts comes in handy. I'll search for a specific brand or a specific type of clothing and "plus size" and comb through the results, looking for things that are in my size. Amazon doesn't post size charts for specific brands, but a lot of the brands will put the size charts in the images for the item in question. There's a lot of searching, because they tend to think that 40-34-42 is plus size, but I've gotten some great finds off of Amazon and if I find something I like but can't find it in my size on Amazon, I can go to the brand's website or eBay and try to find it.
Searches that are usually fruitful for my particular style: "retro dresses," "polka dot dresses," "pattern dresses."
eBay
If there's a particular pattern/style in a particular brand I'm looking for, I'm not above looking on eBay. I generally won't pay more than the regular price for it, but sometimes I get fixated on something and am not above tearing the internet apart to see if I can find it.
Some Specific Brands I Like
There are some specific brands that are usually cross-sold on Amazon and ModCloth and various other sites that sometimes have great stuff at the source that isn't on those sites:
LindyBop – Adorable and affordable retro-style dresses and skirts with whimsical patterns.
Hell Bunny – More rockabilly retro rather than cute retro, but they get some great patterns.
Pin-Up Girl Clothing – Great little retro brand that does AWESOME halloween clothes that I covet EVERY YEAR.
Unique Vintage – Retro-y that's more on the conservative side–fewer patterns, more solid colors, still cute as heck.
Accessories
Jewelry:
Sparkle Designs is a small, woman-owned company that makes nerdy jewelry and largely sells it at conventions. They do have an online shop, though, and they do custom orders! I have a zillion necklaces from them and I easily drop close to $100 there at DragonCon each year on gifts for myself and for my friends. I love their charm necklaces in particular–I have a Hamilton one, a Doctor Who one, a Rosencrantz and Guildenstern one, a Moana one, and two custom Great Comet ones, and that's just what I can think of off the top of my head. They're great people and happy to work with you to get your custom order perfect.
(Click on the jewelry above to go to their website and click around to see their other stuff!)
Etsy
I get a lot of jewelry on Etsy, too, usually just by searching for a vague idea of what I'm looking for "pressed floral necklace" or "sparkly bottle" or whatever.
FabFemmeCreations makes sweater guards that I love–I have two sets from them.
Cranberry Creations makes adorable floral and cutesy necklaces that are right up my alley.
ZenniOptical
I get my glasses and sunglasses from Zenni, which is full of cheap and adorable glasses frames. They're affordable enough that you can have a whole bunch of different frames to match to your outfits. Which I maybe do. ::shifty eyes::
Zenni Frames I have and love (I have the hearts as sunglasses):
(Click through to check out the heart glasses! The pink tortoise shell are unavailable, but they do have them in brown.)
Zenni frames I'm lusting after:
(Click through to check out these awesome frames!)
Leggings:
ReDress has a lot of awesome plus size clothes, but they're not always really my style. What IS my style are their teggings leggings, especially the fleece lined ones that I have like, four pair of.
I wear the "Plus" size in these–they are cheap and come in a lot of colors and patterns and there's another size above plus as well. They're super soft and only last like, a season, but what do you expect for ten bucks?
These leggings are AMAZING. They are also super expensive, so I only have one pair, though there are many others I would load up my cart with given the chance. They are incredibly stretchy and stretch in such a way that the design doesn't get warped around fat thighs and asses. They do licensed designs from some great WBS endorsed comics, like Bitch Planet and Sex Criminals, and they just seem like an all around awesome company to support and work with. They may be expensive, but they're definitely worth the investment if you can spare it.
Lipstick:
I love this stuff? Some people find it a little drying, but I have this in like, four colors and it could outlast the apocalypse. One application and it stays on all day. I use this when I'm running an event or at a conference or somewhere else I'm going to be running around a lot, talking and eating and drinking.
The Red Velvet color is the lipstick they used for Peggy on Agent Carter, and that is absolutely why I first bought it, but it's also just a great formula. It's very pigmented and it stays on pretty well all day. It also smells really great? I love it. Deffo worth the price tag.
This lipstick is my favorite drugstore find. It is two dollars a tube most places, it comes in a bunch of good colors, and it has remarkable staying power for something so cheap. It's my every day lipstick and I always have about four of them in my wallet.
I'm not going to do bags and shoes–I have a really messed up shoulder that means I can't carry purses or handbags, so I really just use the same backpack for almost everything (it's this one, mine is royal blue) and while I do like shoes, aside from my every day flats that I have in three colors, I kind of discover shoes I want by accident, not through dedicated searches.