First, a follow-up on prom. It turns out that Laurie Halse Anderson wrote a book about prom. It's cunningly entitled Prom. I'm definitely adding it to my to-read list, since if anybody can write a somewhat-normal book about prom, it's probably her. David Levithan and Daniel Ehrenhaft have also edited a YA anthology called 21 Proms, which includes a story by my YA lit crush, John Green, so I will also check that out. Perhaps there is hope for some decent prom stories after all!
And now, on to me talking about my homework. I'm working on creating a "book club discussion portfolio," which requires me to choose a theme and select an appropriate set of books, and then create promotional materials and discussion questions. I've somewhat ambitiously chosen racial identity as my theme and I am now discovering how terrible I am at writing discussion questions. I keep catching myself writing questions like "Do you think you are racist?" and "Did you hate [character]?" These are not productive questions. The very act of trying to write these questions is giving me a greater understanding of the books. It's also making me really glad that I decided to pursue librarianship rather than teaching.
Do you like book clubs? There is a YA book club on campus that I sometimes attend. I like talking about books, of course, but sometimes it gets very heated. Our Mockingjay discussion particularly got my blood running! Who knew there were so many Katniss-haters out there? Not me. And those opinions are wrong and must be corrected. … Right?
And now, for your enjoyment, a few of the discussion questions I've been slaving over, with annotations.
For Sherman Alexie's The Absolutely True Diary of a Part-Time Indian: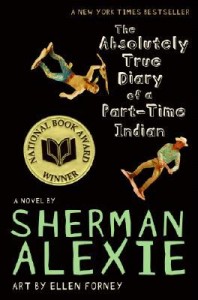 How do you interpret the book's title? Is Junior really a "Part-Time Indian"? Is his story "Absolutely True"? (I almost added "What does it mean to be 'true'?" but I thought that might be getting a little heavy for a high school book club.)
For Julia Alvarez's Return to Sender:
How would you react if you found out that your parents were hiring undocumented workers on their farm? (This book's narrator is a white kid who is basically terrified of immigrants and any perceived threats to "homeland security." I basically could not stand him and had a hard time writing any discussion questions that did not reflect my hatred of him.)

For Walter Dean Myers' Slam:
Slam is one of a handful of minority students at a primarily white school, and he thinks he got in "when they had all the fuss about getting more black kids to go to the magnet schools." How diverse would you rate your school? What effect do you think diversity has on classroom learning? (It was really hard for me to write any questions about this book that were not extremely leading. But my target audience for this project is largely white Midwestern teenagers who probably have not given much thought about what it's like to be one of the few minorities at their school. Think about it, kids!! And adults!! If I ever actually lead a book club discussion on this book it will probably end with me screaming at everyone.)
Discussion Questions
Have you ever had to write discussion questions? Why or why not?
Would you like to write some discussion questions for my project? Discuss.
If you could discuss anything, what would you discuss?
Would you rather discuss discos or discuses? Would you rather throw discos or discuses?
What would Katniss Everdeen do if people said mean things about her at book club?