OK, so I know this has been out for a few years and it's already hugely popular. But I totally missed out on this phenomenon until recently. When I went to see the last Harry Potter movie, I saw a preview for Hugo, the movie based on The Invention of Hugo Cabret by Brian Selznick. I wasn't super impressed by the trailer and I didn't think much about it. I'd come across the book earlier this summer when I was researching popular graphic novels, but I didn't look into it because my library puts Hugo Cabret in children's. (This is kind of arbitrary and some other libraries keep it in teen, or copies in both sections.)
But then it was assigned reading for my Children's Lit class, and I read it and was utterly captivated. It's a completely one-of-a-kind book, part novel, part comics, part silent movie. It's not a traditional graphic novel, but it's more than just a novel with illustrations. Every so often the text gives way and the story is completely told through wordless images. Striking, soft, black and white images.
It won the Caldecott Medal in 2008, and apparently it was a very controversial choice in the library world. No one (really) disagrees that it's a wonderful book, but the Caldecott Medal is for picture books, and not everyone agrees that Hugo Cabret is a picture book. I don't even know if I agree that it's a picture book, but I'm not on the Caldecott committee and I don't care whether or not it's a picture book. Whatever it is, it's a work of art and you should absolutely read it, whatever section of the library might be lucky enough to house it.
The book tells the story of a young boy who lives in a train station alone. He's a skilled clockmaker, having learned from his late father, and he's trying to reconstruct an automaton. (Which I looked up on Wikipedia after reading the book and could not believe that they are real! They are basically extremely complicated clockwork robots!) It's part mystery, part… historical techno-thriller, part coming of age story, part thrilling chase scene… it has everything!
Having read and loved the book, I'm a little hesitant about the movie. Part of what made me enjoy the book so much was how astonishing the experience of reading the book was, and how cleverly Selznick made the book mimic a movie. I think that will be lost when it actually is a movie. Anyone can make a movie mimic a movie, after all.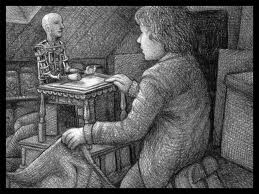 I rate the Invention of Hugo Cabret five automata out of a possible five.