Little House in the Big Woods was the first chapter book I ever read. I loved it, of course–who didn't? I have a well-worn box set of the Little House books. I even read Farmer Boy, even though it was about Almanzo and not Laura. (Farmer Boy always made me really hungry–those kids were constantly sitting down to hot doughnuts or homemade taffy or fresh watermelon or something awesome.)
This weekend I'm embarking on a summer roadtrip with my friend Anna. We're going to South Dakota, and our first stop is De Smet, South Dakota… home of the Ingalls Homestead. I visited the Ingalls Homestead with my family, but I was too young to really remember. I'm super, super stoked to visit as an adult. Also, I got Little House on the Prairie and Little Town on the Prairie on CD so we can listen to them on our way. It's going to be epic, you guys. Rest assured, I will blog photos of Anna and myself wearing bonnets and taking advantage of any other historical photo opportunities available to us.
In the meantime, here's a review of a book that was clearly written by someone as enamored of Little House on the Prairie as I am.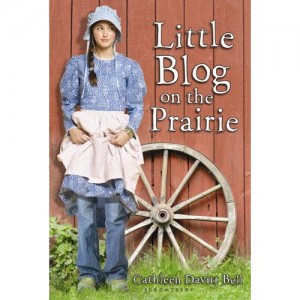 Little Blog on the Prairie by Cathleen Davitt Bell is the story of Gen Walsh and her family. Gen's mom signs the family up for Camp Frontier, inspired by her own love of Little House on the Prairie and the romantic ideals of frontier life. Gen and her brother are so not thrilled about spending the whole summer doing chores and wearing old-fashioned clothes. Gen manages to smuggle in her cell phone and occasionally sends out hilarious text messages to her best friends about her adventures. Unbeknownst to her, one of her friends has been reposting her messages on a blog. The blog goes viral and Camp Frontier ends up at the center of a media storm, forcing Gen to evaluate her opinions on technology and the camp itself.
I really liked this book. Gen is smart and funny, and I thought her family was very realistic. (They quickly thought of the over-achiever pioneer family as their rivals, simultaneously envious of their abilities and disdainful of their lameness.) I liked that they had believable quarrels but still loved each other and got along. And one of my favorite aspects of the story is one that hasn't been mentioned often in contemporary literature, at least to my knowledge–the power of technology to make us feel connected. The relief Gen felt after sending out text messages to her friends, even though she couldn't check for responses very often–that rang very true to me and matched my experiences as a Peace Corps volunteer. It's nice to feel like you're communicating with your friends, even by text. Overall, I rate Little Blog on the Prairie three bonnets (out of five).
Next on my to-read list (maybe): The Wilder Life: My Adventures in the Lost World of Little House on the Prairie by Wendy McClure.